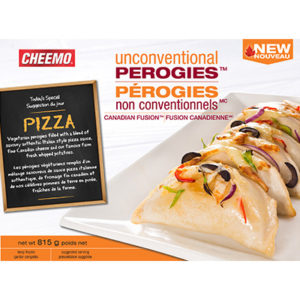 For Immediate Release
Edmonton, Alberta – Pizza Perogies are here! Heritage Frozen Foods Ltd. is adding a second flavour to its CHEEMO Unconventional PerogiesTM brand –Pizza. The pizza perogy follows up on the successful launch of the South Asian Style Curry perogy which is available to consumers across Canada.
The Unconventional PerogiesTM Pizza is a vegetarian perogy filled with a blend of savoury authentic Italian style pizza sauce, fine Canadian cheese and CHEEMO's famous farm fresh whipped potatoes.
"For over 46 years our family has provided Canadians with high quality, great tasting perogies at a reasonable cost," says Joe Makowecki, President of Edmonton-headquartered Heritage Frozen Foods.
"With our pizza perogy joining our Unconventional PerogiesTM brand, we continue to provide our customers with premium perogies that reflect our multi-cultural society. CHEEMO's Unconventional PerogiesTM represent Canada's changing ethnic landscape and our customers' growing interest in international cuisine."
"CHEEMO's Unconventional PerogiesTM enable Canadians to experience the taste of Canadian Fusion –a blend of international cuisines –while maintaining our ongoing dedication to quality and value that has been a hallmark of our family-owned company from its inception."
Heritage Frozen Foods is a Canadian family-owned and operated company proudly using wholesome ingredients grown by Canadian farmers. It has been providing its customers with high quality value-priced perogies since 1972. For great CHEEMO recipes, visit www.cheemo.com.
-30-
For more information, contact:
Taylor Johnson
780.454.7383
[email protected]